Uzume AM Edition
---
The dancing Goat
From the launching of our Uzume in 2013 began the journey of a relationship with AM Integration in Taiwan, and what began as a comercial relationship, in time turned into a wonderful friendship. This is where we got the idea of a collaboration between both brands. We then started bouncing off ideas and proposals until we got to the Uzume AM Edition. A board with the same spirit as the original, a new cut which gives it more flex and new riding experience sensations.  The fishing touches, based in the original design by Josema Carrilo, are now outlined over dark walnut wood, giving a new look to a solid concept which is already a classic.
The Uzume AM Edition will only be available for purchase through the AM Integration and our online shop.
Limited ítem.
249,00 €
Only Board · PVP
Buy
Dancing at dawn
Inspired by Uzume, the goddess of happiness, fertility and dance. The sun hid in a cave leaving everything in darkness, Uzume, joined by the other gods danced at the entrance of this cave until the sun became too curious not to step out and look, and thus there was light again.
Spin it 360º!
Explore our Uzume in detail, get a full view of its top, bottom and lateral structures…
Here is where you can visualize our board from different angles and appreciate the upper and lower finishing touches as well as its full geometry (rocker, concave, nose and tail)
Slide your cursor horizontally to spin the Uzume and explore all of its features using the zoom.


New tail and new cut over the same shape
The new cut in the design of the Uzume has a handmade finish with Wheel flares that prevent the wheels from touching during turns. Its new forms give it a deeper flex while keeping it equally reactive and with the same pop as the original model.

Flat surface for the trucks
The area where the trucks are placed is completely flat, both the rocker and the tails begin on the sides of the trucks, this gives a perfect definition to every zone on the deck.
Customized grip tape
A new grip tape proposal, this time only on the tails, leaving the dark walnut finish exposed throughout the rest of the board displaying the characteristic Uzume stroke in blue or pink.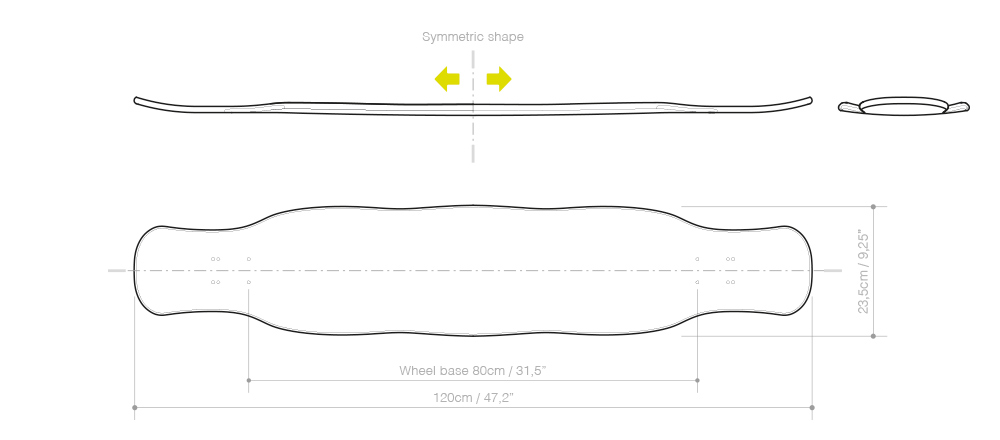 | LENGHT | WIDTH | WHEEL BASE* | WEIGHT | THICKNESS |
| --- | --- | --- | --- | --- |
| 120 cm | 23,5 cm | 80 cm | 2,4 Kg | 10 mm |
| 47,1/4" | 9,1/4" | 31,1/2" | - | - |
* The wheel base is measured from the center of the inner bolts.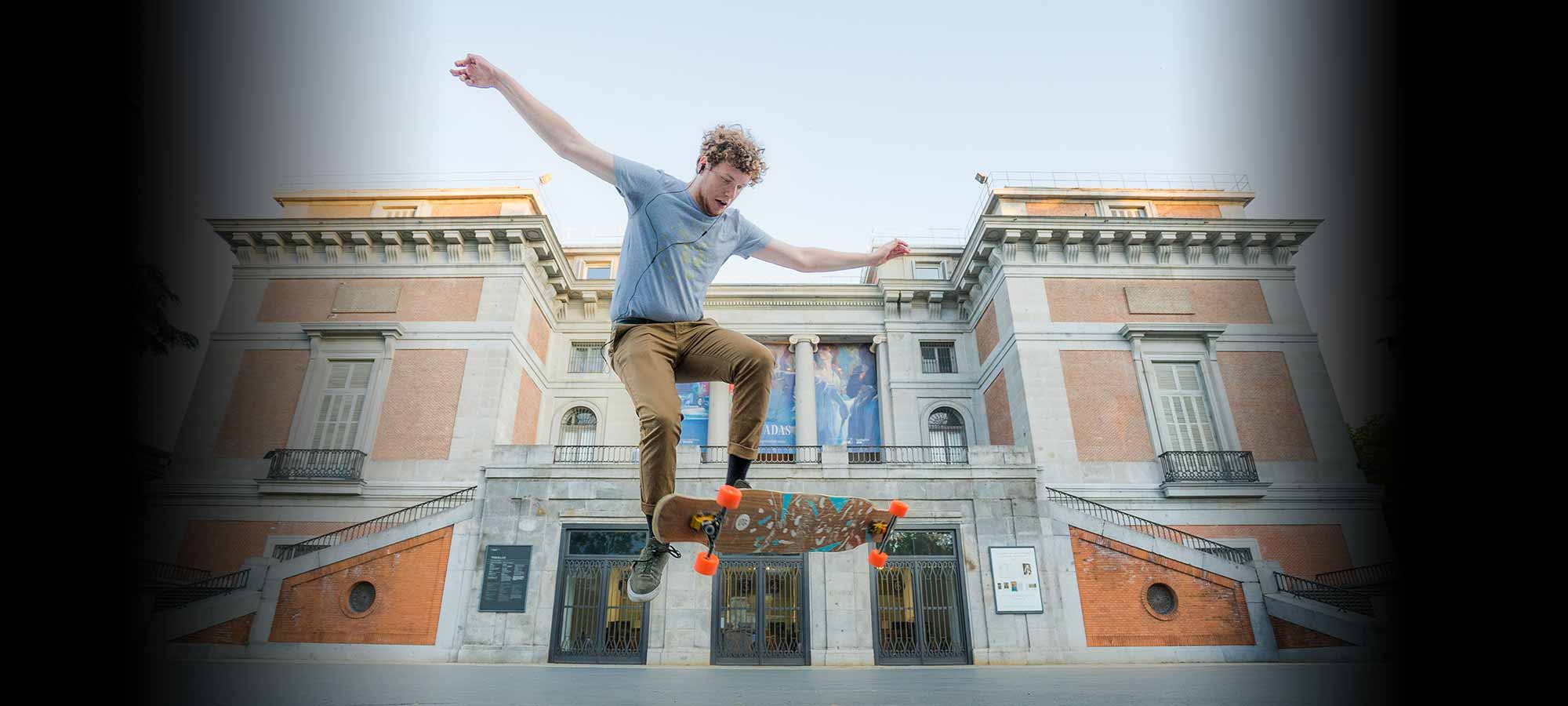 Just Dance
The Uzume AM Edition is ready to dance, you can appreciate its tails, light rocker and flat surface for truck placement. Shall we?
Dancing with Uzume AM edition
Sergio Valdehita and Borja Allúe skating the Uzume AM Edition in the autumn of Madrid. A special edition Uzume with walnut wood finishes, a renewed cut and a platform with less grip tape to dance non-stop.
Buy Uzume AM Edition
The dancing Goat