Aurea
---
Be Magical!
Our Aurea model is a symmetric longboard crafted by pressing 10 mm of a bamboo sheet nucleus and two fiberglass sheets. A light rocker shape, a smooth area for the trucks, and broad tails. Aurea is te youngest member of our dance/freestyle family along with the Uzume and Soul boards. 38 inches of fun with a great flex and sharp tails.
Magical proportions which elevate your riding style to another dimension.
Developed with Juan Pelirrojo, Justo Mullor and Javi Martínez.
Buy
The golden ratio.
The graphic design on our Aurea was created by artist Josema Carrillo, who also collaborated with us on the Uzume art. A different concept based on geometric and symmetric forms which represent the spirals formed by the golden ratio.
Spin it 360º!
Explore our Aurea in detail, get a full view of its top, bottom and lateral structures… Here is where you can visualize our board from different angles and appreciate the upper and lower finishing touches as well as its full geometry ( rocker, concave, nose and tail).
Slide your cursor horizontally to spin her and explore all of our Aurea's features using the zoom.

Rounded bullnose
A rounded, hand-sanded bullnose and wheel flares, and a flat surface for setting the trucks which allows you to place them in the most suitable position and get the best performance from its rocker and tails. Its layered structure makes this a light and reactive board with a more accented flex than her older sisters, Uzume and Soul.

Broad tails
 The tails on our Aurea are similar to those of Soul, broad and with a flat surface on which to mount the trucks. The tails are reinforced for greater sturdiness and to prevent twisting while performing tricks. A board with a lot of pop which will jump wherever you tell her to.
Customized Grip Tape
The Aurea longboard is crafted with a customized grip tape inspired by the graphics on the lower side of the deck in which the phrase "Be Magical" is repeated.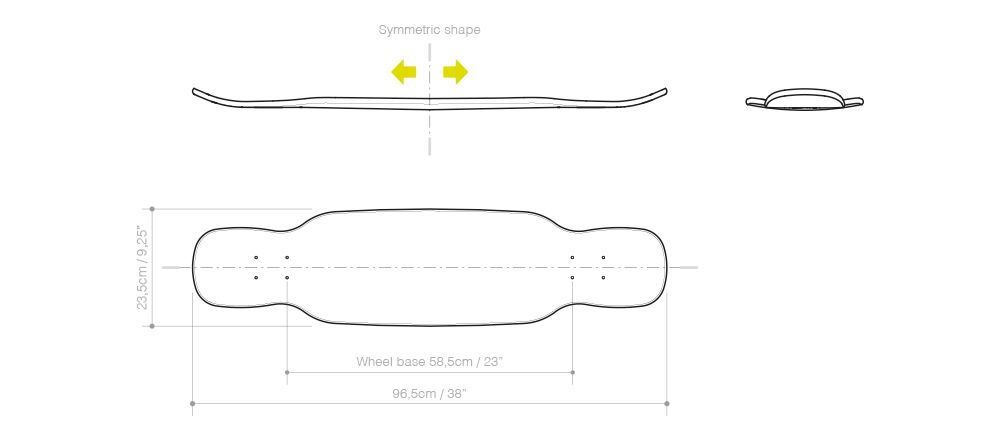 | LENGHT | WIDTH | WHEEL BASE* | WEIGHT | THICKNESS |
| --- | --- | --- | --- | --- |
| 96,5 cm | 23,5 cm | 58,5 cm | 1,6 Kg | 10 mm |
| 38" | 9,25" | 23" | - | - |
*The wheel base is measured from the center of the inner bolts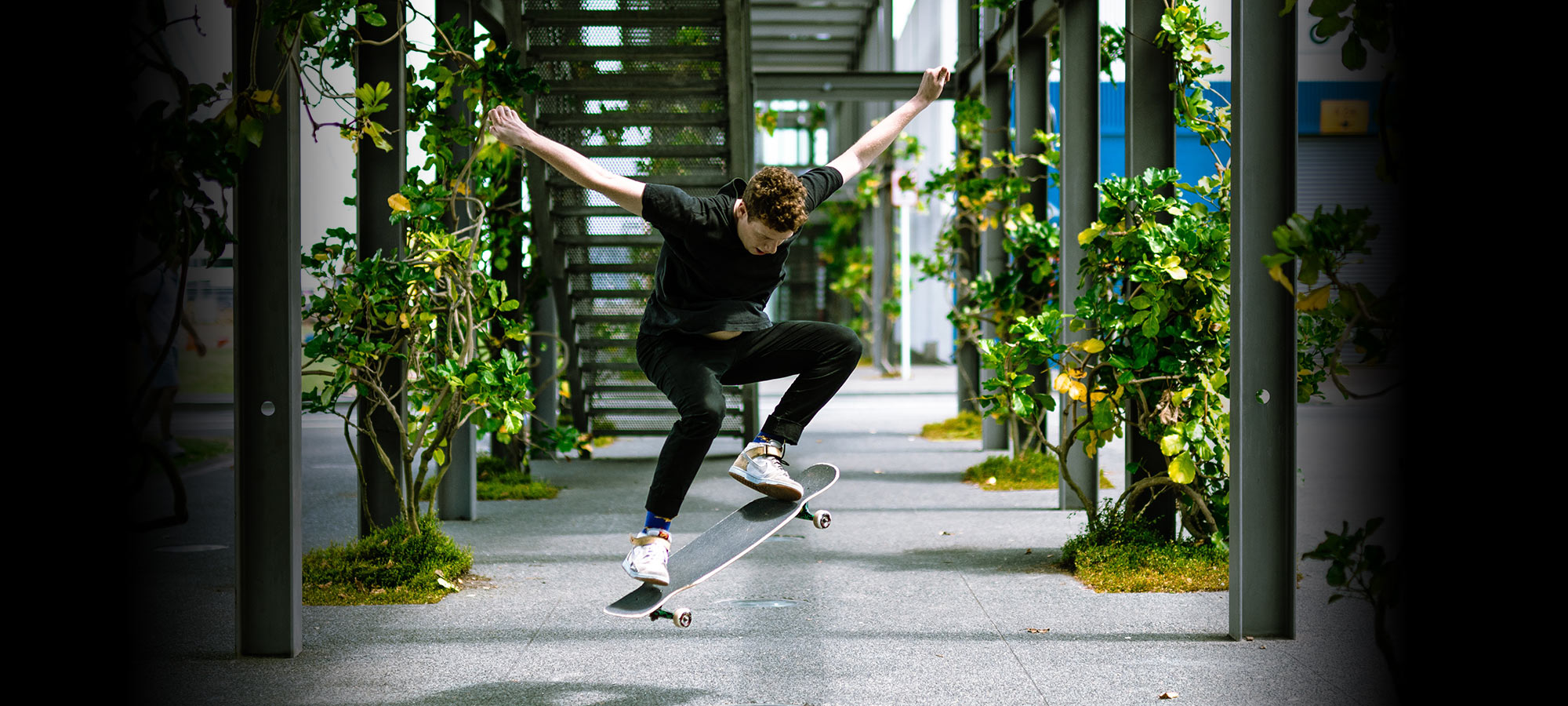 Aurea is ready to roll
Here is Aurea, set up and ready for you to ride, dance or do some tricks, 38 inches of fun waiting for you to work your magic.
Aurea. Be magical!
Juan Pelirrojo patina la Aurea por las calles de Madrid y la hace volar bajo sus pies con trucos proporcionadamente mágicos.